Restoration Projects
We are involved in several restoration projects in the Abel Tasman National Park. Our primary focus of this work is to increase the availability of food for our native birds and also to improve the visitor experience in the park.
Black Beech restoration on Adele Island/Motuareronui to boost the presence of this species and eventually control the spread of hakea (Image of this restoration in here). Link to Beech Planting Plan
Native restoration from Marahau to Tinline to increase the bird food and also improve the visitor experience. (Image of planting in here)
We also assist DOC and Project Janszoon with other restoration projects such as native rata and peppercress planting, 'firesmart' projects and sand dune protection.
Wilding Pine and Weed Control
To restore and maintain the natural forest cover of the national park we have administered almost $1 million in grant money to remove wilding pines and control a large suite of weed species in the Abel Tasman. At one stage it is estimated more than 10,000 ha of the Abel Tasman National Park was infested by wilding conifers. Control began in 2012 and the dead standing trees on the skyline and in bush catchments symbolise the success of this highly visible work. These trees are mainly a legacy of early European settlement and farming ventures. We also worked with owners of adjoining land to help stop reinvasion. Over time native trees will take their place and restore the integrity of the natural environment.
Here is an early article on the Wilding Pines project
The success of this project has seen the method being used as a blueprint for other areas.
This is a detailed case study on how it was done here.
Here is a
video from Project Janszoon
.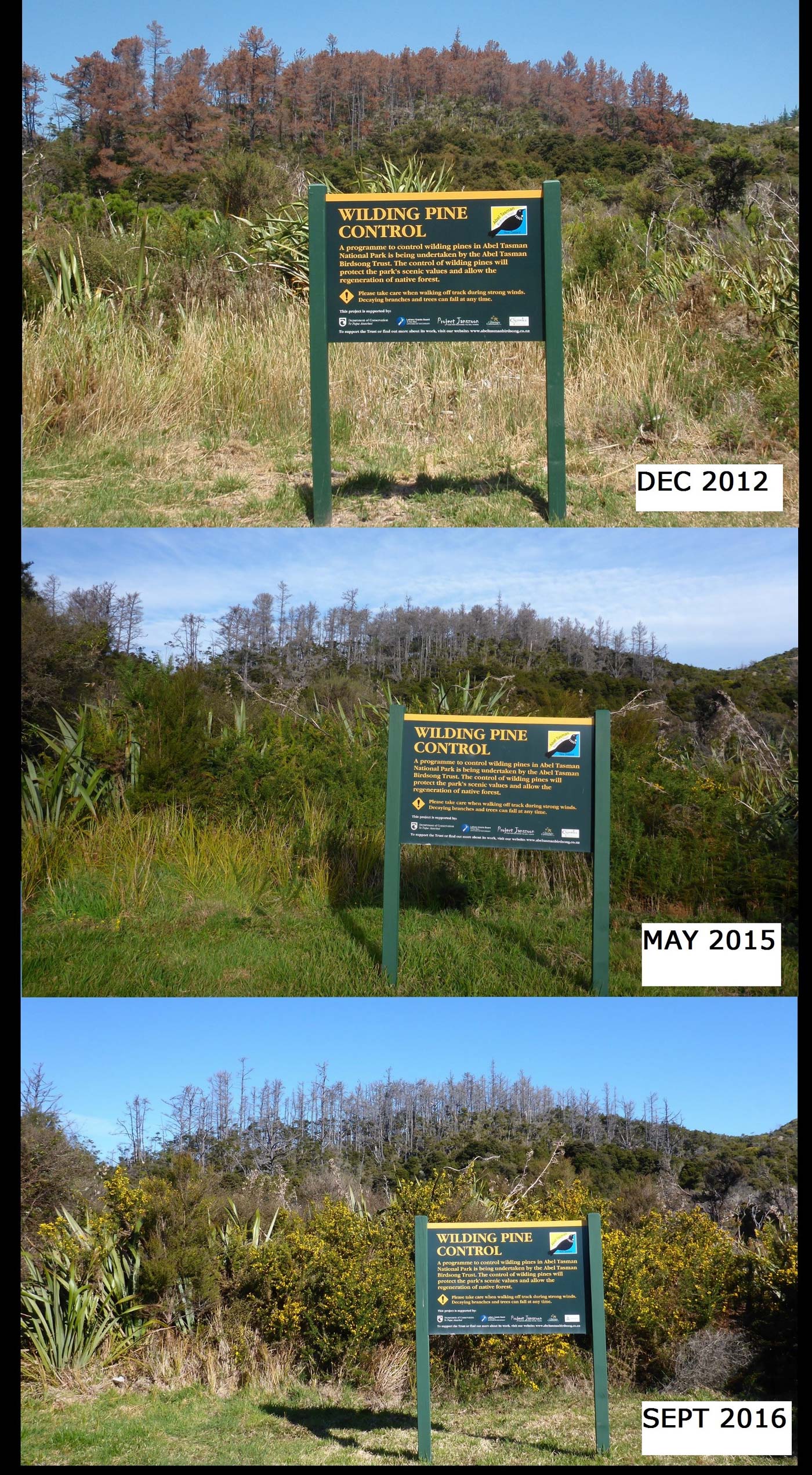 Wilding pine comparison photos
Weeds
A 2012 survey identified 113 different weed species in the Abel Tasman National Park – not including gorse and hakea.
In 2014, the Abel Tasman Birdsong Trust began a $200,000 weed control programme, supported by the New Zealand Lottery Grants Board, targeting high–priority weeds like grevillea, wattle, holly, old man's beard, pampas and tradescantia.
Torrent Bay escapees – pic of all locations showing the extent of the spread.
At Totaranui, climbing vines like Japanese honeysuckle, jasmine and banana passionfruit, and willows in the wetland area were also controlled.
In 2016 Project Janszoon took over the follow–up work of the wilding pines and weed control, focusing on target species that were either missed, or had sprung up after our initial control.